VPS hosting
VPS (Virtual Private Server) is something between shared hosting and a dedicated server. It's similar to shared hosting in a way that multiple virtual private servers share the resources of a single physical server.
The difference is that a VPS is a lot more powerful and flexible for a similar price to shared hosting. You can pick a size of a server, its CPU, RAM, Disk Space, Bandwidth and other resources. It acts as a dedicated server, but at a lot lower monthly price.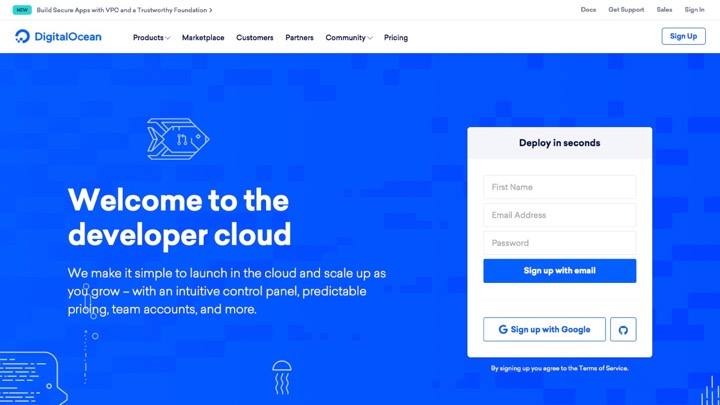 DigitalOcean offers flexible server configurations with fast load times, great uptime and reliability at cheap prices. It's no surprise that it quickly became one of the most popular VPS hosting providers in the world. It's based in New York City with 12 data centers around the globe. It offers four main products:
Droplets
Kubernets
Databases
Spaces
Droplets
Droplets are virtual machines that you can provision in just 55 seconds. You can choose between Standard, General Purpose, CPU-Optimized, or Memory-Optimized configurations.
Standard droplets come with a mix of memory and compute resources. They are the most popular products DigitalOcean offers, best for small projects that can handle variable levels of CPU performance, like websites, blogs, web apps, microservices, small databases and dev/test environments.
The cheapest standard droplet, which includes 1 GB of RAM, 1 vCPU, 25 GB SSD disk and 1 TB transfer is $5/month.
Kubernets
You can create ready-to-use Kubernetes cluster in minutes, starting at $10/month (master node included in starting price). Pre-configured networking with Cilium, Performance metrics, Automated upgrades, Integrated load balancers and persistent storage are included.
Databases
DigitalOcean offers Managed Databases so you can let it manage the relational database engines for your applications so you can focus on building. MySQL, PostgreSQL and Redis are supported.
Spaces
S3-compatible (you can reuse existing tools and code) object storage with a built-in CDN (content delivery network) that makes scaling easy, reliable, and affordable.
Additional DigitalOcean services
Networking
Cloud Firewalls
Load Balancers
Virtual Private Cloud (VPC)
Floating IPs
DNS
Developer Tools
You can manage your DigitalOcean infrastructure with the RESTful API (with the collection of client libraries) or with a CLI (Command Line Interface) through your terminal. You can also use Terraform, GitHub Actions or Custom Images to automate DigitalOcean infrastructure.
Free credit: $100, 60-day free credit from DigitalOcean >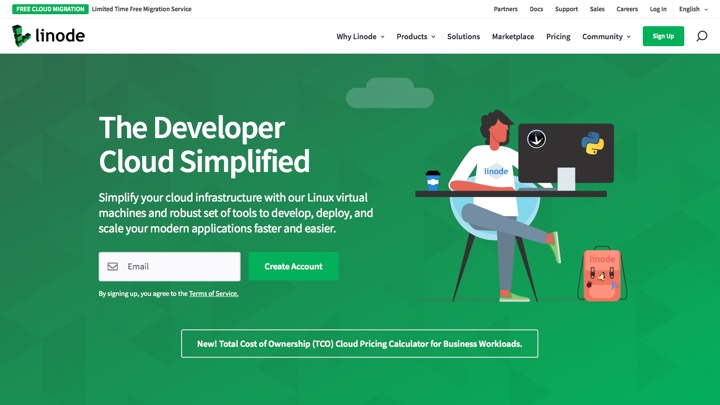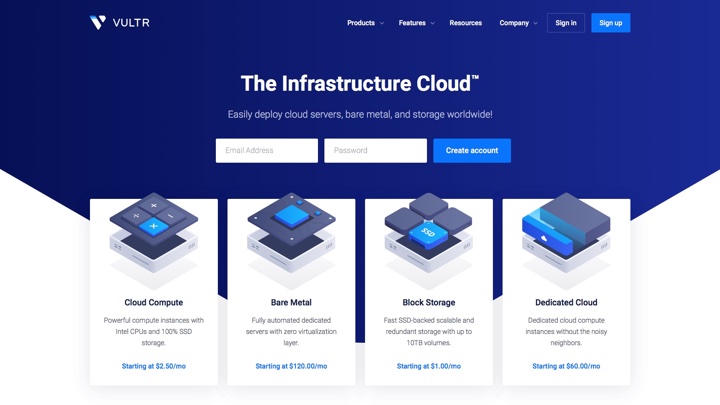 17 Server Locations Worldwide
Vultr has a large worldwide network of servers, so you can choose where you want to deploy your instance, near you, near the majority of your customers, or some other location. There are 8 server locations in the United States: Atlanta, Chicago, Dallas, Los Angeles, Miami, New Jersey, Seattle and Silicon Valley, and 9 worldwide: Singapore, Amsterdam (Netherlands), Seoul (Korea), Tokyo (Japan), London (United Kingdom), Paris (France), Frankfurt (Germany), Toronto (Canada) and Sydney (Australia).
Free credit: $100, 30-day free credit from Vultr >